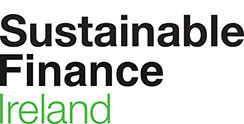 About our Promoting Agency
Sustainable Finance Ireland is Ireland's leading national platform working to advance the sustainable finance agenda at home and abroad. A supporting player in the Irish Government's Ireland for Finance strategy 2025; our role is to promote, connect and support to strengthen Ireland's position. Sustainable Finance Ireland is supported by public and private sectors actors.
Our Vision
That Ireland's financial sector is a leader in sustainable finance, contributing to a sustainable and prosperous economy.
Our Mission
Sustainable Finance Ireland works to support its members by providing thought leadership, raising awareness on excellence & best practice, building capacity in the sector, hosting our peer network and catalysing innovation with supportive frameworks and tools, while collaborating with partners at home and abroad to ensure Ireland's financial eco-system achieves a leading position in sustainable finance.
Visit Promoter's Website

"With highly relevant training and learning programmes, the Sustainable
Finance Skillnet is a fantastic resource for companies, that builds key skills and competencies in the area of sustainable finance, while also providing access to unparalleled thought leadership and technical events."
Read more
Mariano Mesolella
Head of Human Resources, Mediolanum Irish Operations

"Sustainability is a key strategic agenda for Irish Life as a business and has
underpinned our investment approach for our customers for some time. The Sustainable Finance Skillnet is giving us the tools to embark on a programme of transformational change across our enterprise, upskilling in sustainable finance at a pace which is far quicker than it ever has been before."
Read more
Sandra Rockett
Director, Irish Life Investment Managers

"We were delighted to work with the Sustainable Finance Skillnet in the
launch of the CFA Certificate in ESG Investing in Ireland, which enables participants to expand their ESG knowledge and stay ahead in their field. Working in partnership, both organisations are supporting the upskilling of the Irish community in an area of critical importance. "
Read more
Noel Friel
Vice-President, CFA Society Ireland